November 12, 2013
By Transportation for America
For the past five years, Transportation for America has worked with advocates, allies and supporters like you to urge Congress to make smarter investments in America's transportation system.  Next week, we're starting something new.
T4America is building a powerful new alliance of business, elected, and civic leaders from cities, towns and suburbs across the nation. These community leaders know how critical it is to invest in a robust transportation network that can support local economies. And we know stronger local economies build a stronger America.
At a kick-off event on November 19, these leaders will explain why Congress must not only save the sinking transportation trust fund but also raise enough revenue so communities can fix bottlenecks and broken bridges while building new connections to future prosperity.
We want you to join us for the kick-off event. No matter where you live, watch the live webcast of the event and join the conversation on Twitter with us @t4america.
Local Economies, National Prosperity: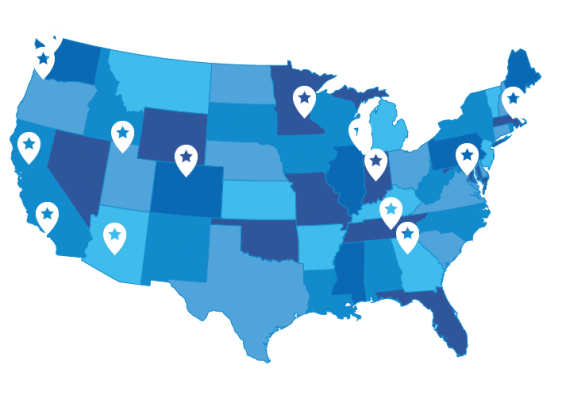 Community leaders make the economic case for federal investment in transportation
Tuesday, November 19, 2013
8:30 AM—1:00 PM EST
Watch it live: T4America.org/live (Please save this shorter link to take you directly to the stream on 11/19!)
We have traveled the country over the past year talking to mayors and county executives, major employers, key institutions, civic groups and many others. And we found that they get the need for an updated national program—so much so that many are eager to be part of the new membership network T4America is building. Our ad hoc coalition did much to defend and win improvements in the last transportation bill, but we can be even stronger with a more formal membership with staying power
As part of the launch next week, we'll also unveil a new and improved Transportation for America website to replace this site you're looking at, complete with new features and ways to get involved.
The coming year will be a critical one for transportation in the United States as Congress must act to address the deep deficit in the transportation fund and the expiration of the two-year MAP-21 law.
Next week's event is just the beginning. You stood with us the last go-round, and we hope you'll be with us in our new configuration!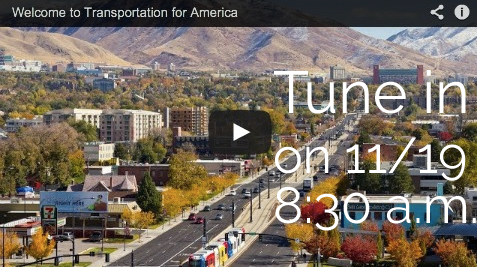 September 30, 2013
By Transportation for America
Whether or not Congress can reach an agreement in time to prevent a government shut-down before tomorrow, one thing is clear: shut-down or not, this next fiscal year (FY14) will be a year of more cuts — including cuts to transportation.
(This post is by Sarah Kline, T4 America's research director. -Ed.)  We're less than 24 hours away from yet another possible government shut-down as Congress continues debating a plan for government spending covering the first few months of the 2014 fiscal year, which begins tomorrow on October 1.
The bill they're considering is called a "Continuing Resolution" (or CR), a simple spending bill that continues the funding levels from the previous year as Congress continues to approve a full budget for the year. Whether or not Congress can agree on a CR in time to prevent a shut-down, however, one thing is clear: this next fiscal year (FY14) will be a year of more cuts.
Sequestration requires at least a 7 percent cut for discretionary programs to meet the FY14 budget caps. For many programs this will mean a 7 percent cut from the FY2012 funding levels for 2014, deeper than the 5 percent required for this current 2013 fiscal year. As severe as the cuts in FY14 are, they are only the leading edge of devastating cuts to come if Congress does not agree on a long-term way to provide the transportation trust fund with more, dedicated revenues. Relying only on existing revenue from the federal gas tax would lead to massive cuts to highway and transit projects starting next fall in FY15.
What does sequestration mean for transportation programs?
To understand the impact of sequestration on transportation programs, keep in mind that for budgetary purposes, transportation programs fall into two categories: those funded from the Highway Trust Fund (where federal fuel taxes are deposited), and those discretionary programs funded from the general fund (where most other federal taxes go).
Trust Fund Programs
In general, programs funded from the highway trust fund are not subject to the sequester. Federal-aid highway programs and core transit formula programs funded by the trust fund were not cut in this last year. In fact, funding for those programs increased slightly over their FY2012 levels to match the authorized levels in MAP-21.
But in FY2014, because fuel tax revenues won't be sufficient for the funding levels authorized by MAP-21 for those programs, MAP-21 also called for a transfer of $12.6 billion from the general fund into the Highway Trust Fund. That $12.6 billion is subject to the sequester, and will face cuts of over $900 million. Unlike other programs, though, this cut does not directly lead to cuts in funding for highway and transit projects. What it will do is speed up the timeline for the Highway Trust Fund going broke, creating the potential for greater cuts or the need for similarly large transfers of general funds — a difficult proposition. In fact, some are concerned that, due to sequestration, the Trust Fund may not remain solvent through even this next fiscal year as originally expected when MAP-21 was enacted.
General Fund Programs
Transportation programs funded by the general fund are subject to the same cuts as most other federal discretionary programs under sequestration. This includes the New Starts and Small Starts programs, which fund construction of new transit service; the highly oversubscribed TIGER program of competitive grants, and Amtrak. As mentioned above, these programs were already cut by about 5 percent in FY13 compared to their FY2012 level, and will be cut by at least 7 percent and possibly more than 8 percent in a continuing resolution due to the sequestration requirements (the Office of Management and Budget will determine the exact percentage later this year). As a result, there will be less investment in new transit lines, in intercity passenger rail, and in innovative projects in cities, towns, and suburbs across the country.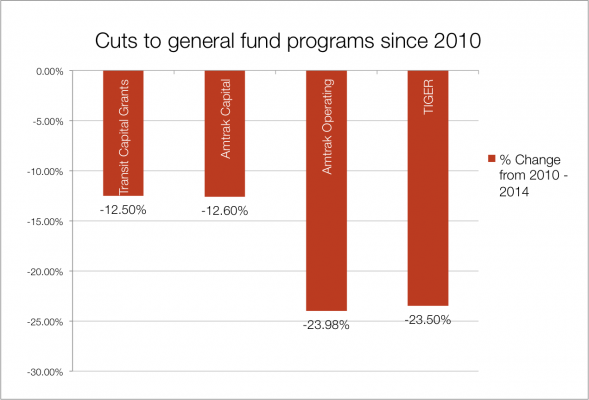 What does that mean in real terms? One example: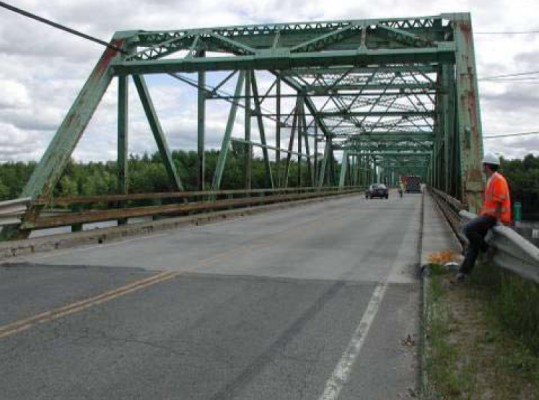 DOT's TIGER competitive grant program lost $25 million in FY2013 and could lose as much as $41 million in FY2014 due to sequestration. The sequester cuts come on top of cuts already made to the TIGER program over the years since 2010. If Congress had continued funding TIGER at its 2010 level every year since then, DOT could have funded 50 more innovative transportation projects (assuming an average grant size similar to the average size of the recently announced TIGER V grants). Instead, those projects are still waiting in a long line, and the problems they are intended to address – congestion, safety, efficiency, access to jobs – are only getting worse.
(Replacement of Maine's Penobscot River bridge, built in 1896 and widened in 1946, is just one example of a project that is still awaiting TIGER funding. (Source: MaineDOT, TIGER Application for Penobscot River Bridge, June 2013)
Funding Table: Comparing 2012, MAP-21 and 2014 transportation funding
| Program | FY12 Appropriations | MAP-21 Authorization | FY14 Appropriation* (includes sequestration) |
| --- | --- | --- | --- |
| Federal Aid Highways | $39.1 billion | $39.7 billion | $39.7 billion |
| Transit Formula Grants | $8.36 billion | $8.5 billion | $8.5 billion |
| Transit Capital Grants | $1.955 billion | $1.9 billion | $1.75 billion |
| Amtrak Capital | $952 million | N/A | $874 million |
| Amtrak Operating | $466 million | N/A | $428 million |
| TIGER | $500 million | N/A | $459 million |
| Projects of National & Regional Significance (PNRS created in MAP-21) | N/A | $500 million | $0 |
*FY2014 amounts are those that would be provided if the partial-year CR is extended for the full year, and assumes a cut of 8.2% due to sequestration for general fund programs.
August 1, 2013
By Transportation for America
Transportation for America is pleased to announce the appointment of Erika Young as Director of Strategic Partnerships, leading the expansion of a diverse coalition that is committed to reinvigorating our nation's investment in transportation.
Ms. Young comes to T4America from the National Association of Regional Councils, where as transportation director she helped to formulate the organization's positions on federal transportation legislation and oversaw a coalition advocating on their behalf. NARC is a non-profit trade association representing regional collaborations of local government, serving their advocacy and professional development needs in the fields of transportation, environment, homeland security, and economic and community development.
At T4America, in addition to recruiting new members and allies, she will oversee the organization's field offices in the states and serve as the primary liaison to current partners.
"Erika brings expertise in both transportation and coalition-building, precisely the combination we need as we reach out to new allies in making the case for stronger, smarter investment in transportation at the federal, state and metropolitan levels," said James Corless, director of Transportation for America. "With her background at NARC, she also understands the critical role that metropolitan regions play in the modern economy, and the need for federal and state support to realize the potential for prosperity."
"As the nation struggles with the difficult questions of how to pay for overdue transportation investments, T4America will continue to be an important voice," Young said. "I am honored to join them and support their efforts by recruiting new and diverse allies."
Erika assumes her new role on Aug. 6 and will be working from T4America's office in Washington, D.C.
###
TRANSPORTATION FOR AMERICA is the leading, independent voice for preserving, updating and expanding our nation's transportation networks in order to help all American communities and individuals reach their economic potential.
www.t4america.org
July 25, 2013
By Stephen Lee Davis
Already standing in sharp contrast to the House's approach to funding transportation for the next fiscal year, leaders in the Senate are working to further improve the smart Senate transportation funding bill through a handful of amendments to the bill as it reaches the floor.
With the approval by the full Senate Appropriations committee, the Senate's yearly transportation (and housing) funding bill is now being considered on the full Senate floor.
Which means amendments…lots of amendments.
Senator Schumer (along with Sens. Gillibrand, Menendez, and Cardin) proposed an amendment (No. 1763) that would allow rail and transit bridges to also be eligible for the $500 million in the Bridges in Critical Corridors program. Our most critical corridors aren't always just highways, and this allows states and local communities to apply for flexible funding that can meet their greatest local need, whether that a bridge carries trains or cars.
There was another predictable attempt by Senator Rand Paul to take away the tiny slices of money that local mayors and communities often use to invest in popular trails and protected bikeways like Indianapolis' downtown Cultural Trail or Washington, D.C.'s Capital Crescent trail that commuters depend on daily and spend those relative pennies on bridge repair. (Streetsblog covered this troubling amendment yesterday.)
We should do a better job of repairing our aging bridges. As noted before, the Senate bill contains a new $500 million grant program to do exactly that. But which bridges? Senator Rob Portman from Ohio succeeded in having an amendment included that would ensure that the money can only to to repair bridges that are structurally deficient or functionally obsolete. That's a done deal.
Lastly on bridges, Senator Cardin and Senator Gillibrand also proposed an amendment (No. 1760) requiring FHWA to report on highway and bridge conditions in each state as well as the amount of funding states are spending on highway and bridge repair — something that states once had to do before MAP-21 eliminated the dedicated bridge repair program. This would restore a requirement for states to closely track the conditions of their bridges and most importantly, how much they spend to repair these bridges compared to spending on new construction, helping taxpayers and citizens hold state leaders accountable for making progress.
There are some other amendments detailed below, which we'll report on in the coming days.
It's not too late to write or call your Senator and urge them to pass the Senate transportation funding bill when it comes before the full Senate. There were crucial swing votes on the committee that will be imperative to preserve when the full vote happens.
—
Other notable amendments we're tracking:
Flake 1764 (and Flake 1796) – Prohibits use of funds to subsidize cost of food service and first class service on Amtrak
Flake 1765 (and Flake 1772) – Requires Amtrak to submit a report on losses in food service and first class service by route and line
Flake 1766 – Eliminates the $15M in funding provided for the public transit emergency relief program
Flake 1767 (w/ McCain) – Requires Secretary of Transportation to submit a report on programs carried out under chapter 2 of title 23 – which includes the Federal lands program and Transportation Alternatives
Inhofe 1771 – Requires that at lease 20% of the funding in the "Bridges in Critical Corridors" program be used in rural areas
Vitter 1775 – Requires the Secretary of Transportation to establish and publish selection criteria for TIGER including any required documentation. It also requires notification of awards within 3 days
Vitter 1776 – Allows any project awarded funds under the "Bridges in Critical Corridors" program to proceed with a categorical exclusion from NEPA requirements
Murphy 1783 (w/ Rockefeller and Blumenthal) – Requires that in any postings for Buy America waiver USDOT 'assess the impact on domestic employment' of the proposed waiver
Coons 1788 – Increases funding for Amtrak from 1.452 billion to $1.565 billion
Cochran 1794 (w/ Wicker) – Creates weight exemption for trucks on portions of Route 78 designated as an interstate after the effective date of the bill (this provision is similar to Wisconsin bill truck weight bill recently approved by the House)
July 19, 2013
By Stephen Lee Davis
The two chambers of Congress at the moment are looking at very different paths for funding transportation.
The House path — though stopping short of cutting all funding by a third as proposed in the past — slashes passenger rail funding by $400 million, eliminates money for the innovative TIGER grants, and reduces the funding communities depend on for new transit projects.
Meanwhile, a Senate committee has drafted a budget that increases funding for new transit construction, keeps and expands TIGER, provides support for Amtrak and passenger rail improvements, and funds a new grant program to jumpstart progress on repairing critical bridges.
Can you take a moment to write your two Senators and tell them to support this smart budget in the Senate? It's likely to come up for a vote next week.
The House transportation budget is unabashedly bad, and the only way to counter it is with a strong Senate alternative.
The Senate proposal embraces the reality that communities everywhere are looking for smart ways to keep people and goods moving, promote prosperity and keep their infrastructure in good shape. The House would thwart them on every front.
The Senate budget acknowledges that Amtrak ridership is breaking records and that Americans deserve a convenient rail option. It acts to do something about the fact that we take 260 million trips each day over deficient bridges that urgently need repairs.
So let's make sure that the Senate hears this message loud and clear: Face up to reality and pass a transportation budget that funds solutions to our problems, whether it's fixing bridges or providing more viable ways to get around.
Take action today and tell your Senators to vote for this budget.
June 28, 2013
By Stephen Lee Davis
Less than a week after the release of The Fix We're In For — our report on the nation's bridges showing that one in nine US bridges are structurally deficient — a key Senate committee passed a yearly funding bill that provides new money for repairing these deficient bridges across the country.
The Senate's Transportation, Housing and Urban Development appropriations bill reported out of the Appropriations Committee this week specifically provides more money to invest in repairing bridges on key corridors.
The $500 million in the bill dedicated specifically to bridge repair is a step in the right direction toward prioritizing the repair of our more than 66,000 structurally deficient bridges.
Transportation for America commends Senator Patty Murray, Senator Susan Collins and the rest of the committee for recognizing the importance of investing in all of our bridges — not just a small segment of them. That's a key difference between this $500 million and the policy created in last summer's transportation bill (MAP-21.)
As we pointed out in last week's report, 90 percent of the country's structurally deficient bridges were left behind by MAP-21, which made tens of thousands of deficient bridges ineligible for receiving repair dollars from the largest highway program.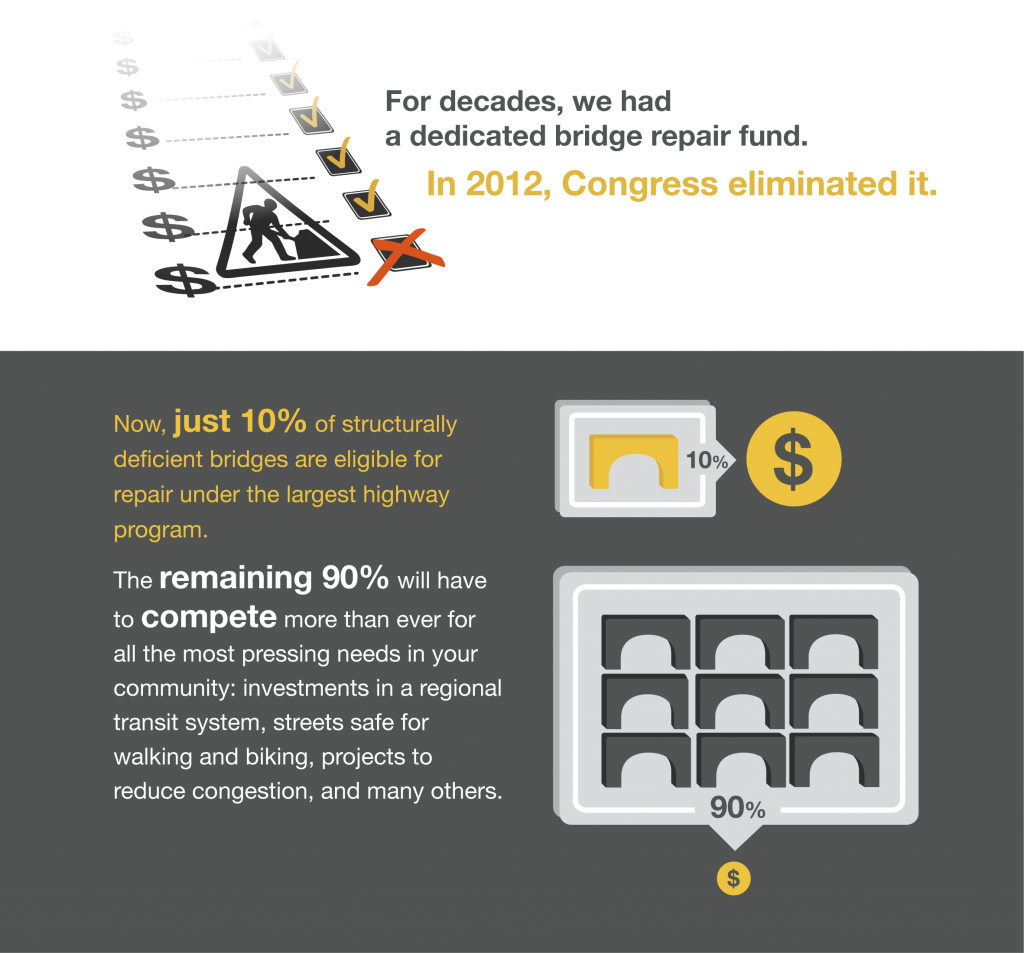 For the $500 million for bridge repair in this appropriations bill, almost all highway bridges are eligible to receive dollars for repair, not just a small slice of our country's bridges. The committee recognizes that the connections these other bridges make in our transportation network are often just as important as our biggest, busiest interstate bridges.
In addition, this money for bridge repair will be provided via a competitive grant program to ensure that it goes to the most vital needs on corridors that are crucial to moving goods and people, in urban and rural areas alike.
Yet new money for bridge repair is far from the only highlight in yesterday's appropriations bill. There's also $1.75 billion for rail programs, with $1.45 billion of that intended for Amtrak operations and capital investments – coming a year after Amtrak carried over 31 million passengers and grew their ridership more than 60 percent since 1998, according to the committee release, and another $100 million for passenger rail capital grants to improve service.
The competitive TIGER grant program also got another round of full funding to the tune of $550 million — grants for innovative transportation projects that often cross state lines and combine transit, freight, safety or other diverse uses, and are often hard to fund under older, rigid federal and state programs.
There is also almost $2 billion for investing in new or expanded public transportation across the country through the New Starts transit program.
This bill will head to the full Senate next, but there will be contentious negotiations ahead with the House, which has lower overall funding levels and drastically different ideas for some of these specific programs: No extra money for bridge repair, a significant cut for Amtrak, slightly less money for public transportation and zero dollars for the popular TIGER grant program.
June 20, 2013
By David Goldberg
It's easy to be cynical about our often frivolous media environment these days, but it is heartening to see the seriousness with which outlets of all sizes are treating reports about the need to maintain our aging bridges and other infrastructure. In addition to dozens of newspaper and web reports, more than 500 broadcast outlets have picked up yesterday's release of the "The Fix We're in For", the 2013 edition of our report on bridge conditions nationwide.
Among the highest-profile, and best, TV stories was certainly this from NBC Nightly News yesterday evening that we embedded in the previous blog post. (Click to watch.)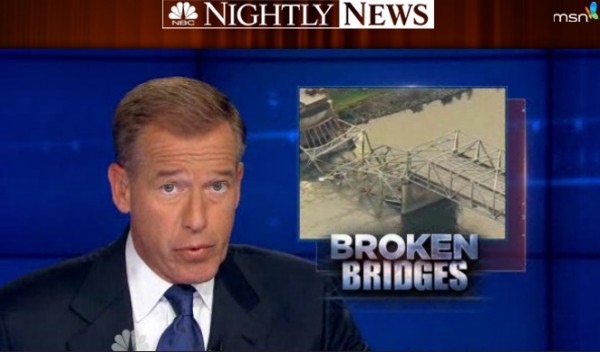 In the Washington Post, Ashley Halsey looked at the impact that deteriorating bridges can have short of actually falling down:
When big bridges collapse they make news, but it generally escapes notice when decrepit bridges just cause prices to go up on almost anything that gets to the store by truck. …

The group put out a report Wednesday that uses state and federal statistics to put a fresh face on an existing issue, and to raise a question rarely heard above a whisper in Washington because Capitol Hill hasn't come up with a good answer to it: Where will the $76 billion come from that the Federal Highway Administration says is needed to repair deficient bridges that carry 260 million vehicles each day?
Larry Copeland, writing for USA Today, noted that Congress made changes last year in the federal transportation program, known as MAP-21, that could have a negative impact on the ability of states and localities to return the most threatened bridges to a state of good repair:
In the two-year federal transportation funding bill it passed last year, Congress eliminated a dedicated fund for bridge repair. "The upshot is that bridge repair now must compete with other transportation needs," the report says. Money previously targeted for bridge repair was rolled into a new National Highway Performance Program, which can be spent only on highways that are part of the National Highway System, which includes interstates and major state highways. Nearly 90% of structurally deficient bridges are not part of the National Highway System.
June 20, 2013
By Stephen Lee Davis
We hope you had a chance to check out our new report released yesterday on the state of our nation's bridges? 1 in 9 US bridges — about 66,500 in total — are rated structurally deficient and in urgent need of repairs, maintenance or even replacement.
The Fix We're In For: The State of Our Nation's Bridges 2013 is an updated version of the data we released two years ago, and the findings are much the same: Everyday, Americans of all different stripes drive across these deficient bridges, with more than 260 million trips taken on them each day. To put that crazy number in perspective, McDonalds' restaurants will serve only about 64 million worldwide today. And though we've gotten about 0.5 percent better nationally in the last two years, from 11.5 to 11 percent deficient, that's only a difference of about 2,400 deficient bridges.
Check out this piece from NBC Nightly News last night.
As those comments at the very end of the segment point out, we're better off today than we were a few years ago, so that's good, right? Well, sure, if you're content with a rate of improvement that's slowed to a trickle.
We once made huge progress on repairing our deficient bridges, but today, that progress has almost flatlined. Check out this chart from our report showing the reduction in the number of structurally deficient bridges per four-year period starting back in 1992.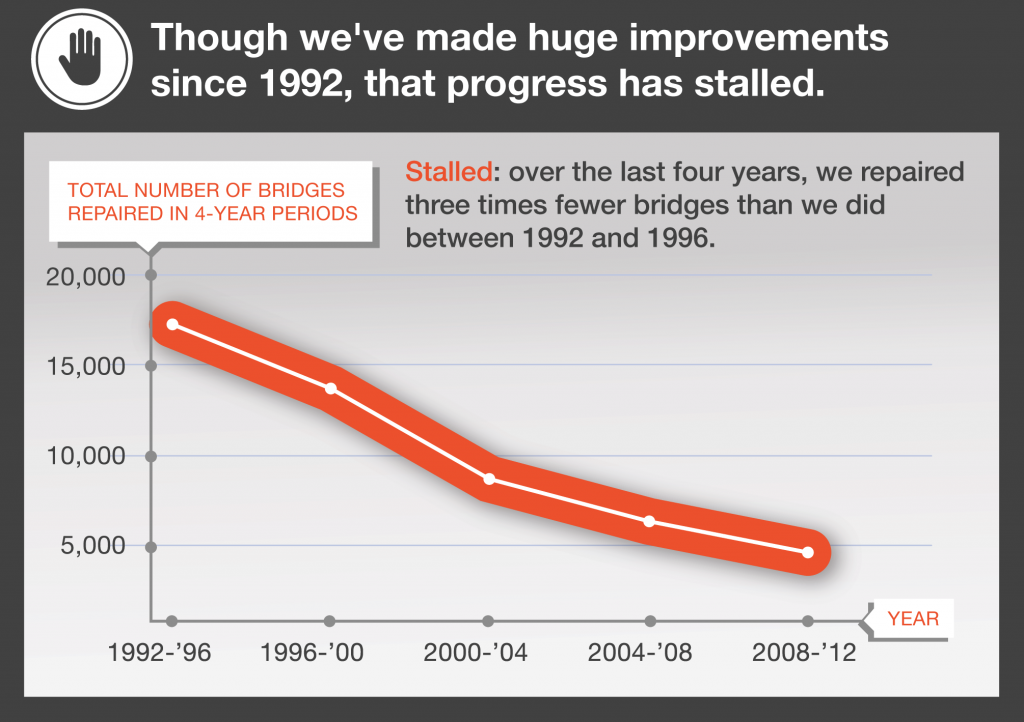 Starting in 1993, shortly after Congress gave bridge repair a greater focus in 1991′s transportation bill (ISTEA), we repaired about 17,000 deficient bridges over the following four years. But in the four-year period from 2009-2012, our log of deficient bridges shrank by only about 5,000 in total. That's a rate of repair that's almost three times slower than it was 20 years ago.
If you take a closer look at that improvement over 2011 (about 2,400 fewer deficient bridges), you'll see that the big improvements made in just two states that heavily prioritized repair, Pennsylvania (-500) and Missouri (-640), account for almost half of that total national reduction of 2,400.
Also keep in mind that the last two years included a heavy load of stimulus spending on repair, and still progress has almost flatlined. Should we be content with hovering around 11 percent of our bridges structurally deficient? Should that be good enough? Can't we do better?
Considering the dire budgetary straits that many states are in combined with Congress eliminating the dedicated bridge repair program last summer and forcing 90 percent of our deficient bridges to compete with all other pressing local needs for funding, could we finally see a year ahead where the backlog either doesn't shrink much at all, or even grows somewhat? Certainly.
It's time to #FixOurBridges, folks.
Tweet about the report, share our infographic (the chart above is included), share the photos on Facebook, and help spread the word far and wide. And don't forget about our interactive map that lets you map all the bridges near you and locate the deficient bridges.
And Let Congress know it's time to win the confidence back of the people and be good stewards of our existing infrastructure, before we build new things that we'll also have to pay to maintain for decades.
June 19, 2013
By Transportation for America
One in nine of the bridges and overpasses American drivers cross each day is rated in poor enough condition that some could become dangerous or be closed without near-term repair, according to an updated analysis of federal data released today by Transportation for America.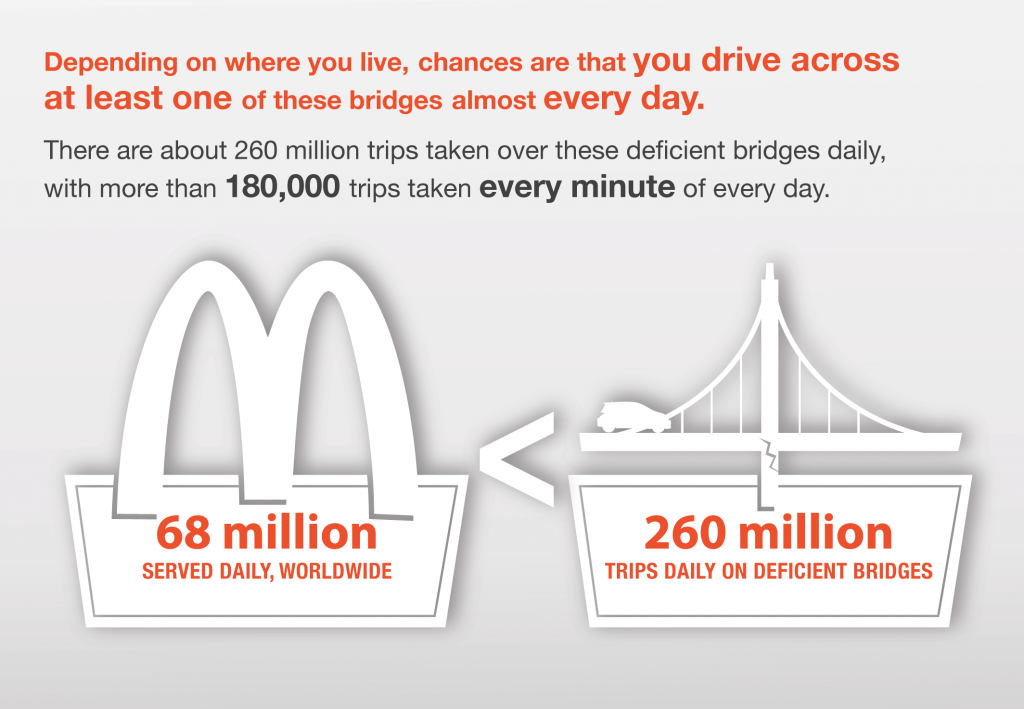 New data and report: http://t4america.org/resources/bridges
Nearly 67,000 of the nation's 605,000 bridges are rated "structurally deficient" and are in need of substantial repair or replacement, according to bridge inspections analyzed in The Fix We're In For: The State of the Nation's Bridges 2013. Nearly 8,000 are both structurally deficient and "fracture critical", meaning they are designed with no redundancy in their key structural components, so that if one fails the bridge could collapse. The Federal Highway Administration estimates that the backlog of troubled bridges would cost $76 billion to eliminate.
The report ranks states and the District of Columbia in terms of the overall condition of the their bridges, with one having the largest share of deficient bridges, 51 the lowest. Twenty-one states have a higher percentage of deficient bridges than the national average of 11 percent. The five states with the worst bridge conditions have a share over 20 percent: Pennsylvania has the largest share of deteriorating bridges (24.5%), followed by Oklahoma (22.0%), Iowa (21.7%), Rhode Island (21.6%), and South Dakota (20.3%).
At the other end of the spectrum, five states have less than 5 percent of their bridges rated structurally deficient: Nevada and Florida lead the rankings with 2.2%, followed by Texas (2.6%), Arizona (3.2%), and Utah (4.3%).
"With the collapse of the I-5 bridge in Washington state last month, coming just six years after an interstate collapse in Minnesota, Americans are acutely aware of the critical need to invest in our bridges as our system shows its age," said James Corless, director of Transportation for America. "Today, though, there more deficient bridges in our 100 largest metropolitan areas than there are McDonald's locations nationwide." Put another way, laid end to end, all the deficient bridges would span from Washington, DC to Denver, Colorado or from Tijuana, Mexico to Seattle — more than 1500 miles.
The need is growing rapidly, the report notes: While most bridges are designed to last 50 years before major overhaul or replacement, American bridges average 43 years old. Age is a major factor in bridge conditions. Roughly half of the structurally deficient bridges are 65 or older. Today there are nearly 107,000 bridges 65 or older, and in just 10 years, one in four will be over 65.
Congress has repeatedly declared the condition and safety of our bridges to be of national significance. However, the money to fix them is getting harder to come by with declining gas tax revenues and a fiscal squeeze at all levels of government. At the same time, Congress made the prospects for bridges even more uncertain last year by eliminating a dedicated fund for them in its update of the federal transportation program. The new law also reduces access to funds for 90 percent of structurally deficient bridges, most of which are owned by cash-strapped local governments.
We'll have much more later today, but don't miss the new data, new report, new interactive map and infographic over at the home for the bridge report.
June 13, 2013
By David Goldberg
Three years after being convicted of vehicular homicide for crossing the street with her young son, Raquel Nelson today finally was freed of the looming threat of three years in jail.
The metro Atlanta mom made national headlines in 2011 when a Cobb County jury found her guilty of killing her four-year-old because she chose to cross a five-lane road from a bus stop to her apartment, rather than walk an additional two-thirds of a mile to cross at the nearest signal. The judge at the time offered her an option for a new trial, which she took, along with a pro bono offer from more experienced counsel.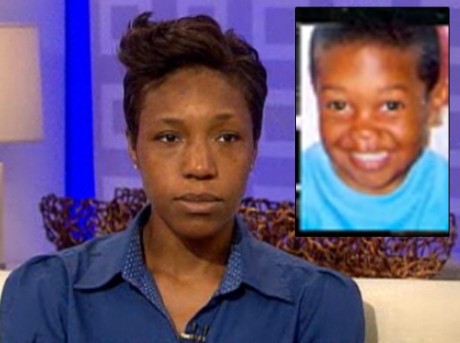 Atlanta Mom Raquel Nelson and her deceased son, A.J.
After prosecuting Nelson with multiple, more serious charges, and saddling taxpayers with lawyer's fees from multiple appeals, the Cobb County solicitor ultimately accepted a plea to jaywalking and imposed a $200 fine.
That particular ordeal is over for Raquel Nelson.
But the underlying crime persists – not just in Cobb County, GA, but also in cities and inner-ring suburbs all over the country. Areas built since the 1950s to be automobile dependent now are home to many lower-income families who don't have access to cars. Nevertheless, the busy roads around them typically have not been retrofitted with safety measures for people on foot, bicycle or getting to and from the bus. The situation is getting exponentially worse as low-wage workers and recent immigrants move to these areas for their more affordable housing.
As we noted in a 2011 Washington Post op-ed:
Nelson was found guilty of killing her son by crossing the road in the "wrong" place. But what about the highway designers, traffic engineers, transit planners and land-use regulators who placed a bus stop across from apartments but made no provision whatsoever for a safe crossing? Those who ignored the fact that pedestrians always take the shortest possible route but somehow expected them to walk six-tenths of a mile out of their way to cross the street? Those who designed this road — which they allowed to be flanked by apartments and houses — for speeds of 50 mph and more? And those who designed the entire landscape to be hostile to people trying to get to work or carrying groceries despite having no access to a car? Are they not culpable?
The good news from Georgia is that this case — and similar tragedies, as the pedestrian fatality rate rises in metro Atlanta — have led the Georgia Department of Transportation to take a serious look at these issues, according to Sally Flocks, the executive director of Atlanta's PEDS.
"I've been really impressed by the extent to which the Georgia DOT now sees the need for safe crossings on busy roads, and mid-block crossings at transit stops," Flocks said. PEDS is working with GDOT to help identify solutions and ways to evaluate the places to fix. The department now is changing policy to use federal safety money in proportion with the fatality rates, Flocks said.
Now we have to hope that the dozens of other states that still pay scant attention to these issues will take notice of this cautionary tale from Georgia. Still, they will only be able to get so far as long as Congress continues to short-change the long-deferred projects to make the dangerous roads built with federal aid safer for everyone who uses them.
See the Atlanta Journal-Constitution story on the plea deal here.